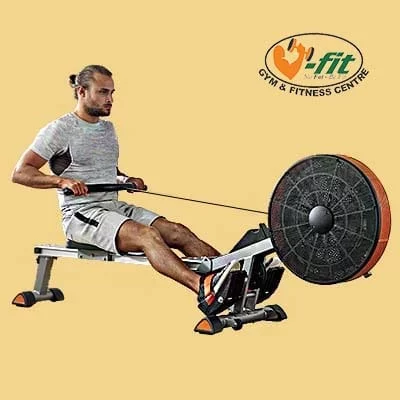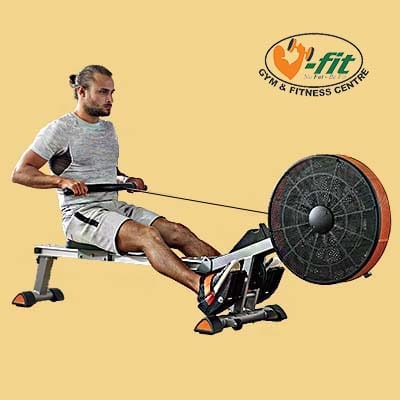 Average Rating 4.0 out of 5

Tornado Air Rowing Machine by V-Fit
The V Fit Tornado Air Rower is generally a fitness-style chain action, and fan propelled rower, utilizing air resistance. Your exercise gets displayed through the screen of the monitor with various inbuilt functions, calorie burn, time, stroke counter, strokes per minute, total strokes and scan function. The Tornado Rowing Machine provides you with a great general body exercise making it a perfect selection for home use.
The first thing you will realize about this V-Fit Air Rowing Machine is the attractive colour scheme and its modern look. The speed balanced air resistance is one of the best things about this rowing machine. Again, the V-Fit Tornado Rowing Machine is foldable, which makes it ideal for residential use since it takes up a pretty little space when you fold it.
In this detailed review of the V-fit Tornado Air Rower, we will cover the features of this machine and help you decide whether this specific rowing machine is suitable for you. You can also use this guide to discover more about rowing machines and their main features in detail, so read on to discover more.
Product Features
Max-extension row arm and single gym-style chain action
50cm diameter extruded fan-wheel
Pivoting, oversize footplates
Speed proportionate resistance
Transportation wheels on the front frame
Six function button computer displays: scan, stroke counter, time, stroke rate, total strokes, and calories
80mm / 40mm and 50mm / 25mm tubular steel mainframe
Dimensions (when folded): 120cm x 75cm x 44cm (LxHxW)
50mm /115mm extruded aluminium rowing handrail which easily folds for storage
Maximum user weight: 115kg Dimensions: 212cm x 74cm x 44cm (LxHxW)
Twelve months parts warranty
Weight: 19.5kg
V-fit Tornado Rowing Machine: Main Features
Rowing is a pretty low impact workout that still burns lots of calories and also improves cardiovascular health. Since rowing usually involves sitting down when exercising, you don't put opposing pressure on your muscles or joints, which means you are less prone to injuries than you would be if you went for regular jogs or bought a treadmill instead.
If you have decided to purchase a rowing machine for home use, there are still lots of things to consider. Which type of rower should you purchase? How do you ensure that the rowing machine will fit in your home? How do you guarantee that you will continue to benefit from the rower in the years or months to come? To help you answer all these questions, here are some of the main features of the Tornado Air Rowing Machine
Durable
When you purchase a rowing machine, you will want to make sure it was designed to last. While the material a workout machine is made out of isn't probably the first thing many people would look for, it's important to know that your exercise machine is designed using strong, durable materials that are unlikely to break or bend easily. The V-Fit Tornado is made using aluminium rowing rails and a sturdy steel frame. Aluminium and steel are incredibly strong materials that last for quite a long period, so you can rest assured that the V-fit Tornado Air Rower will not just break down.
Resistance system
The resistance system of the Rower is what makes this residential rowing machine ideal for both experienced users and beginners. It features speed balanced resistance which generally means that the faster you row, the harder your resistance will be. That makes the Tornado rower ideal for individuals with different levels of fitness as the rowing machine adapts easily to the needs of every individual user. The other positive to this kind of resistance is that there's no dial turns to change the level of resistance. That is a benefit that all air rowers including the V-Fit Air Tornado have over the other types of rowing machines such as magnetic.
Footplates
An air rowing machine involves sitting on its moving chair while you strap both your feet into the footplates that keep them in position as you complete your workout. It's essential that your rowing machine keeps your feet tightly secured during the movement to help you maintain a natural feet movement and also keep your balance.
The designer of V-Fit Tornado paid a lot of attention when building this rowing machine. It features a pivoting design that allows for a natural foot motion, making this model pretty comfortable to use. Moreover, the V-Fit Tornado Air Rower has large footplates that accommodate a big-sized foot, and the firm-fitting straps provide you with a strong and secure footing during your workouts. That will help keep the movement as productive and natural as possible while ensuring that your balance and feet are secure.
Seat and handles
The handles that come with the V-fit Air Tornado differ from most of the straight handles that many rowers have. Because of the kink in the rower handles, it gives you a natural hand motion which is more beneficial for long grueling workouts. The seat of this Rowing Machine features almost the same ergonomic designs that you find with many rowing machines, for maximum comfort.
Digital display and monitor functions
Just like most workout machines, rowers come with some digital screens which display the details of your exercise such as the amount of time you have worked out, the distance you have covered and the calories you've burned. These LCDs might not sound that essential now, but they are crucial to keep you focused and motivated on your workout goals since they make it easier to plan and also monitor your progress.
The Rower comes with a digital monitor that shows you six inbuilt functions which include the number of calories you've burned, the total distance you have travelled, the average speed you are exercising with as well as your stroke rate and counter. The digital display shows you all these readouts, and it's clear to see them as you exercise on this rowing machine. Three of the readouts are typically visible at any given time, but you can push the V-fit Air Tornado's orange button located below the LCD screen to see the rest of the readouts.
Maximum user weight
When you are looking for a robust and incredibly sturdy rowing machine, it's worth checking the maximum user weight. In general, the heavier the maximum weight of a user, the more strongly-built the model will be. When it comes to the V-fit Tornado machine, there's a maximum user weight of approximately 115 kg. That is a respectable weight, but for rowing equipment of its price tag, you would expect some more. However, if you don't weigh over 115 kg, there shouldn't be any issues.
Storage and space
One of the most common issues with a personal workout machine is that it tends to be incredibly heavy and big. That might not be an issue if you live in a big house with a special room you can use for your workouts, but if you have a smaller flat or house exercise equipment is not always a realistic choice. It's unfortunate that some people end up missing out on becoming fit during their spare time just because they don't have enough space for the exercise equipment, but fortunately compact and foldable workout machines are currently becoming more popular.
You can fold and store the Tornado Rower by V-Fit when not in use, and it also comes with wheels on the front frame. That means that you can effortlessly wheel the equipment around your house without any worries of hurting yourself as you move it. You can also fold the rower in half and store it easily and quickly. If storage space is a significant concern for you, then the V-Fit Tornado might be a perfect choice.
PROS
Air resistance is usually speed-proportionate, meaning exercises are intense regardless of your fitness level
Smooth rowing due to the bearing-mounted seat steering rollers and aluminium rowing rail.
Solid construction and fitness-gym style design
Great digital display that helps you track your workout
Simplicity ensuring ease of access
The V-Fit Tornado is foldable, unlike many other rowing machines, saving you a lot of space
Comfortable design with a contoured seat and uniquely oversized footplates
Comes with detailed guidelines of assembling
CONS
It makes some noise while rowing
V-Fit Tornado is a great rowing machine. It is on Amazon's bestseller list for quite some time now. But if you want to check out another option then we suggest you read the review on Nordic Track RX800. It is also air resistance but the price is a bit higher.

Conclusion
When you make up your mind to invest in an indoor rowing machine for residential use you have already made the initial steps into a healthier, slimmer and fitter lifestyle. A rowing machine is an excellent exercise machine that works in many different groups of muscles simultaneously. Therefore, if you begin regularly exercising using a rowing machine you will discover that both your upper and lower body strength will improve, the abdominal and core muscles will become stronger, and your entire body will become more toned.
One thing you should know before purchasing the V-Fit Air Tornado is that it makes noise during workouts, especially after some time. This workout equipment is such a fantastic rower especially when it comes to price ratio. This Rowing Machine is also durable, smooth and comfortable, and has a professional gym design. The adjustable resistance will provide you with an incredibly challenging exercise that will easily adapt to your level of fitness. You can find the V-Fit Air Tornado at your local fitness club or purchase it here and have it at your place for yourself, for anytime you need it. The V-Fit Tornado Air Rower rowing machine is ideal for a beginner or an intermediate user.