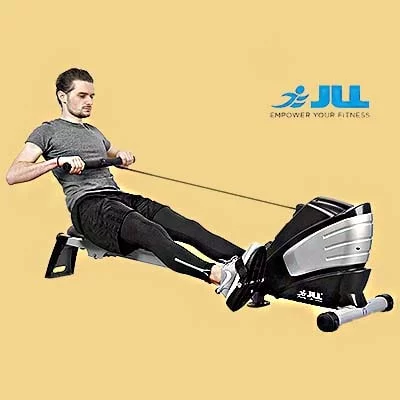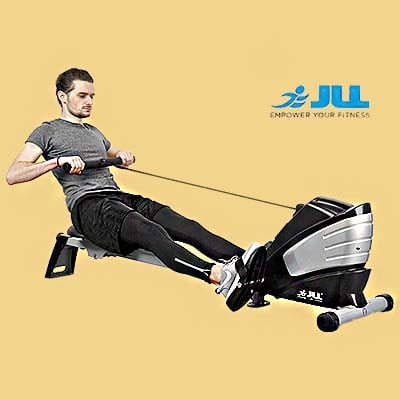 Average Rating 4.3 out of 5

JLL R200 Luxury Home Rowing Machine
Welcome to my honest review of the JLL R200 rowing machine, an incredible product that is designed for physical fitness purposes. This comprehensive review looks at all aspects of this quality home rowing machine without any bias. Discover the features, advantages, and disadvantages of the machine before buying, by reading this honest and unbiased review.
One thing you can be sure about is that JLL R200 Luxury Home Rowing Machine is one that is used by many fitness enthusiasts like you, around the world. It is the favorite choice of rowing machine for many. This is due to several unique benefits that can be derived from this product.
In the subsequent sections, you will discover some important features of the 2019 model of R200 luxury home rowing machine by JLL. You will understand the pros and cons of this bestseller training equipment and why some of its features would be so important to your fitness lifestyle. Then I will wrap it up with an unbiased verdict so you can make up your mind as to whether to purchase it or look for another product. Without further ado, let us start with the features:
 Features of the

JLL R200

, 2019 Model
3″ LCD display with crisp, clear images.
Advanced belt driving system.
Compact and foldable design.
10 levels of magnetic resistance.
Advanced rowing simulation.
Perfectly fitting foot pedals with straps.
Two hind wheels.
 PROS
1. Easy Storage
One of the primary considerations for many rowing machine buyers is storage. Rowing machines can demand a lot of space in your room. You may need to move some of your belongings in order to create enough storage space for your standard rowing machine. As such, standard rowing machines are best suited to traditional homes, which often feature larger rooms compared to modern homes. Yet many homes built over the current decade have smaller rooms, which cannot properly accommodate a standard home rowing machine, without taking some items out of the room, first.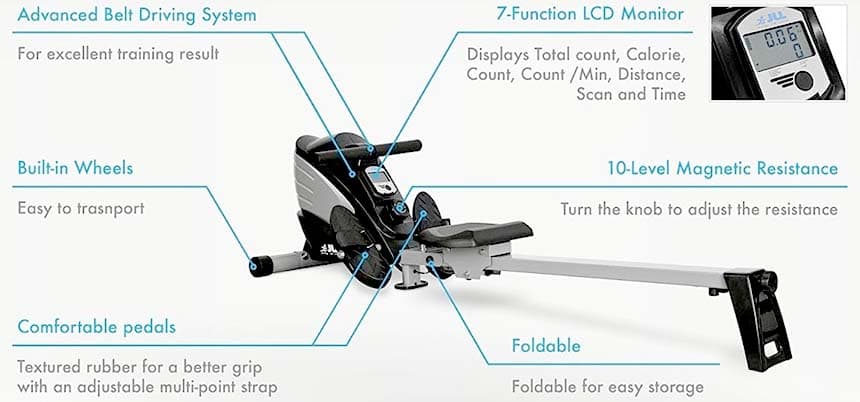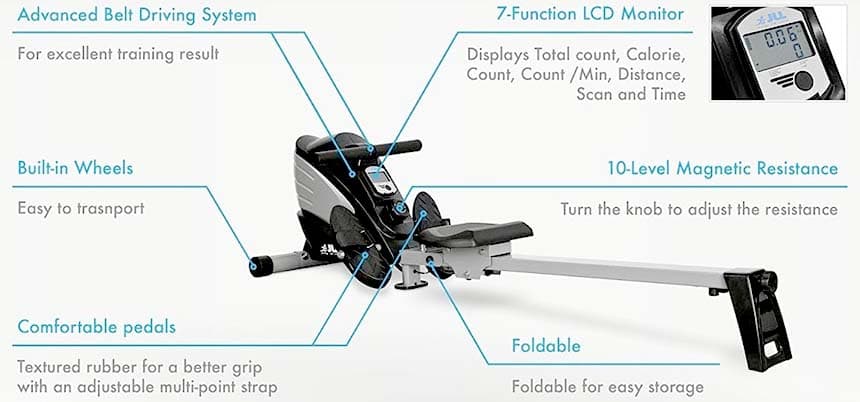 The good news is that the JLL R200 luxury home rowing machine is built with space in mind. Featuring a foldable, compact design, this workout equipment will perfectly fit any room no matter how small the size of that room is. All you have to do after using your rowing machine is to fold it small and store it in your room without needing to first remove some things to create enough space.
2. Easy to Transport with Seamless Movement
Another important consideration for many rowing machine buyers is transport. Many standard rowing machines are large, heavy and difficult to move from one point to another even though they have wheels. What makes this compact and foldable home rowing machine excellently transportable is the design. Lightweight and designed with a set of small wheels at the back, the JLL r200 rowing machine takes the hassle of transporting a rowing machine off your plate.
3. Ergonomic Design
Your posture matters a lot when it comes to physical fitness. It is very delicate and could easily be damaged simply by training on a non-ergonomic rowing machine regularly. You could sustain long-term waist, back or neck problems when you constantly subject your posture to one. The worst part is that posture problems can be very difficult to cure, requiring months of specialist care.
Luckily, this luxury home rowing machine features an ergonomic design with a comfortable seat and rail that protects your waist and back from workout-related injuries. The ergonomic handlebars equally do a great job at protecting your fingers and palms from getting injured during exercise.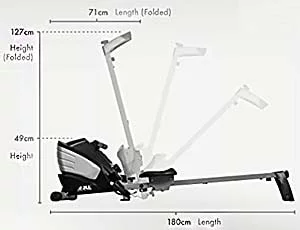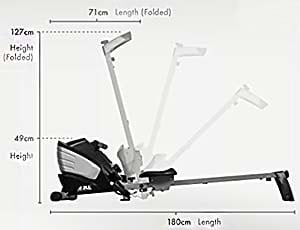 4. A Smooth and Seamless Rowing Experience
This rowing machine is driven through a belt mechanism to ensure advanced rowing simulation. Belt-driven rowing machines are known for providing a smooth and seamless rowing experience. Even if you are a beginner who is not quite experienced with rowers, you will enjoy rowing without any complications, with this machine.
5. Safety First
A rowing machine can pose a serious danger to you as well as people around you, especially if your feet do not properly fit on the feet pedals despite wearing a strap. I have seen several low-end rowing machines with poorly designed foot straps that will not make your foot stay planted on the footplate, especially if your foot is too tiny for the pedal. This can lead to a severe accidental slip, which may cause a serious injury to you or even the person who is training you, suppose the machine tipped over.
JLL takes the safety of the user and anybody else quite seriously. That is why their R200 Rowing Machine comes equipped with strong and secure footplates to ensure maximum safety during a workout. Designed to provide a perfect fit for your feet and fitted with comfortable straps, these footplates ensure comfort and prevent unexpected slips that may cause a serious accident.
6. Tailor Your Workout Needs
Here is where this rowing machine gets a bit of technical mechanically. This luxury rower features an adjustable magnet that offers up to 10 levels of magnetic resistance, suitable for varying workout requirements. You can tailor your workout according to them by simply turning the easy-to-reach magnetic adjustment button near the flywheel.
7. Monitor Your Progress Conveniently
The crisp, clear battery-powered LCD display for this top-rated towing machine lets you track your workout conveniently. It includes a number of functions such as total count, calorie, count/minute and count that give you an insight into your workout progress. Other functions are distance, time and scan. With that, you can see many important details regarding your workout such as the number of calories you have burned, the amount of time you have spent working out at any one particular moment and so on.
 CONS
1. A Lower Weight Limit
One of the primary drawbacks of this amazing Rower is that it has a lower weight limit compared to other rowers in its class. It cannot support weights exceeding100 Kg despite the fact that most rowers support weights of up to 300-500 Kg.
2. A Fragile Display and Occasionally Jamming Wiring
Many users have complained about the fragile nature of the display that comes with this rowing machine. The wiring behind it is also said to jam occasionally, such that the display will not respond until taped gently a few times.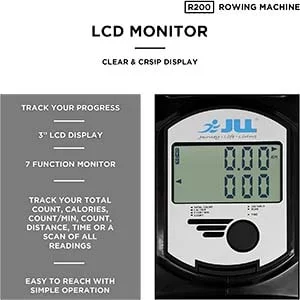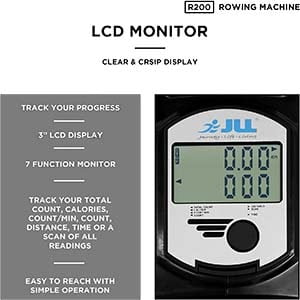 3. Non-durable Straps
Even though the footplate straps are quite effective when new, they wear out pretty fast. This has been pointed out many times in several reviews.
The Three Most Common Injuries that Are Possible with Rowing Machines
Knowing how to use your rowing machine appropriately can keep you safe from the following common rowing machine injuries. So does picking the right machine such as the R200 from JLL:
1. Rib Stress Fractures
Rowing faster than recommended simply because you are competing with another rower can lead to rib injuries, especially if the machine does not have an ergonomic design. Avoid competitive rowing and stick to the recommended speeds.
Additionally, if you experience pain in the ribs while working out, stop and wait for the pain to go away before resuming with a gradual momentum.
2. Hand Blisters
Hand blisters can be caused by improper placement of your fingers on the handlebar or a poor handlebar design. To prevent this, learn how to hold the handlebars correctly while training. You can also look for a comfortable pair of slip-resistant gloves with which to protect your palms during training.
3. Joint Pain/ Bursitis
Rowing too vigorously can lead to an inflammation of the fluid-filled sacs that cushion your bursa (joints, muscles, and tendons. When you experience some pain in the knee or hip joints, change your vigor and start doing fewer workouts. If the pain persists even after you have done that, seek medical assistance. After all, you could be looking at a serious underlying health condition that is not even related to your workout routine.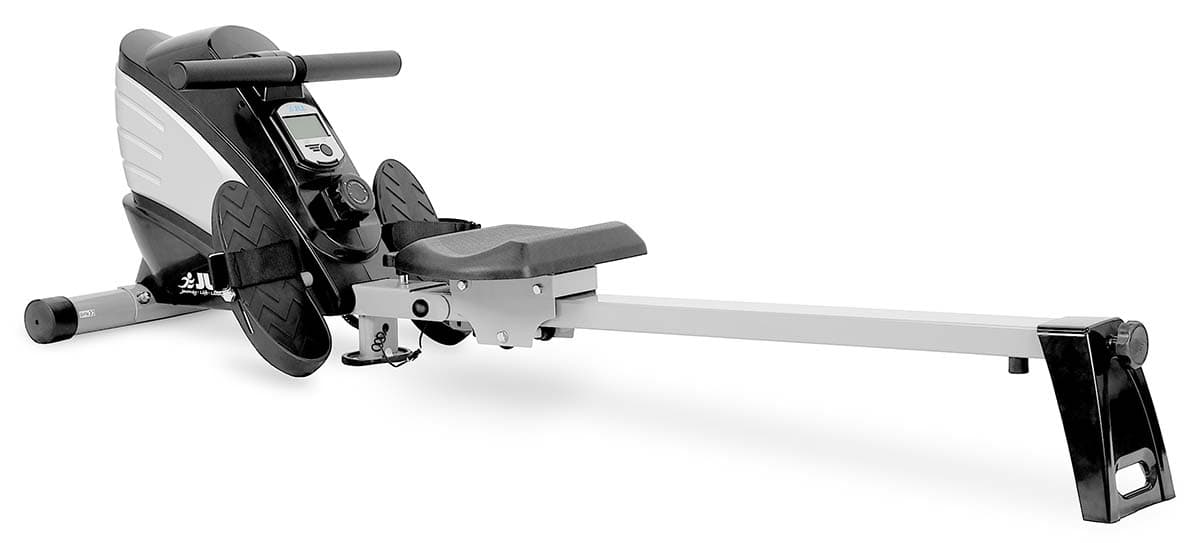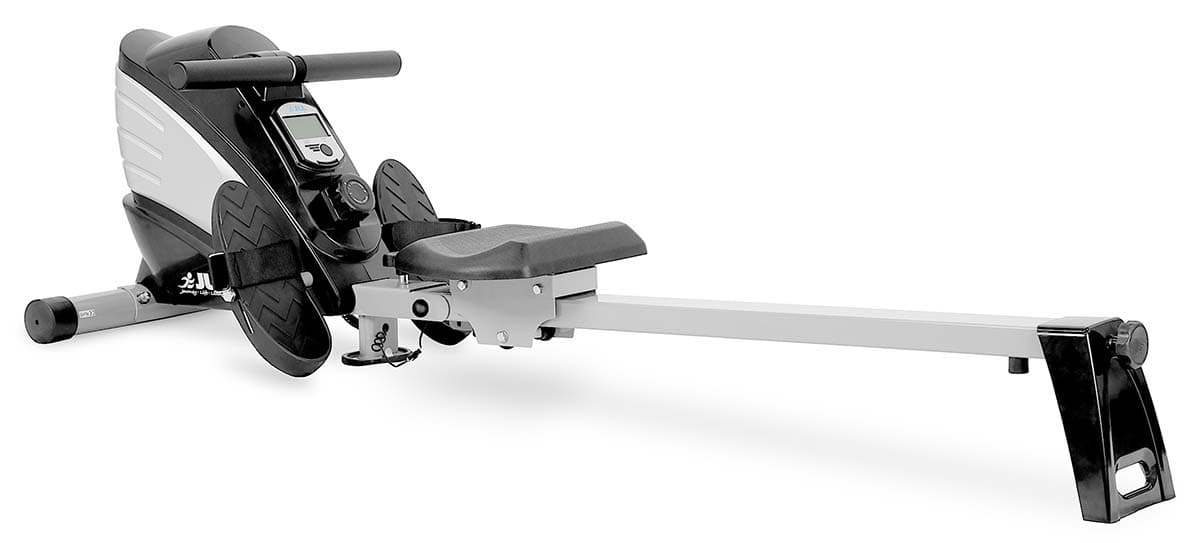 At the moment R200 by JLL rowing machine is at the top on Amazon's bestseller list. It is a good machine but if you're looking for higher quality with magnetic resistance then you should checkout Kettler magnetic rower AXOS.
If you are still looking for other options, here are our 4 best recommendations. Please go through the reviews and pick the one most suitable for your requirements:
Concept2 model D indoor rowing machine
Concept 2 Model E rowing machine
V Fit air rowing machine
JTX rower freedom air

 Final Verdict
The JLL R200 rowing machine, model 2019, is a great choice of a rowing machine. This workout machine is most importantly praised for its safe, ergonomic and compact design. Also, many buyers love it for the fact that it is easy to transport and comes with a set of important features. Just like any product else though, it comes with a few flaws. Without a lower weight limit, a fragile display with a set of wiring that will jam once in a while as well as a pair of nondurable foot straps, this product would be 100 percent perfect.