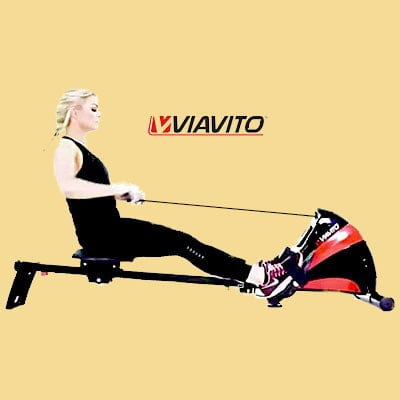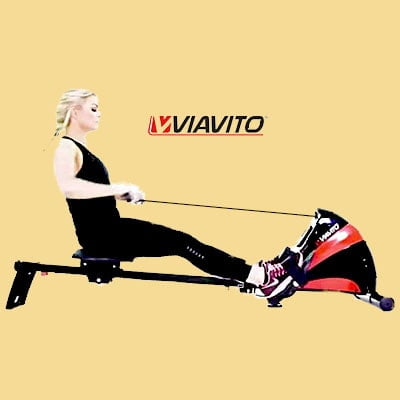 Average Rating 3.6 out of 5

Viavito Sumi Rowing Machine, Foldable (Black)
The Viavito Sumi Folding Rowing Machine is a piece of great and practical workout equipment that comes with a flywheel that promotes smooth rowing movement which works both your lower and upper body. The machine provides ten levels of friction-free, silent and manually-regulated magnetic resistance to keep your heart pumping to burn calories. Even when rowing pretty hard, Viavito Sumi ensures that you will be able to exercise heavily in a disruption-free zone. You can monitor the feedback from your exercise on the digital display that shows distance, time, strokes per minute and calorie count.
For people who love long and productive rowing training sessions, Viavito Sumi Folding Rowing Machine also comes with an ergonomically designed seat that ensures that your exercise is more enjoyable and less painful. By increasing the pleasantness and security of your grip, the rowing further reduces the occurrence of wrist injuries. For your comfort, the rower has large foot pedals. The row length combines with the smooth 4-roller system and commercial-quality rollers to ensure that your rowing is smoother, fluid and more enjoyable. When you finish exercising, you can fold up your Viavito Sumi and store it pretty easily due to the inbuilt transportation wheels.
In this review of the Viavito Sumi Rowing Machine, we will discuss in detail all the features of this rowing machine to help you decide whether this rowing equipment is suitable for you. You can also use this handy guide to learn more about the main features of rowing machines, so read on to find out more.
 

Viavito Sumi Rowing Machine: Product Features
Console Display: LCD
Space-saving foldable design
Large footplates with flexible straps
Flywheel: 7kg
Ten levels of silent, and friction-free magnetic resistance
Console Feedback: time, calories, distance, strokes per minute and total strokes
4-roller systems for smooth action
Inbuilt wheels for easy movement and storage
Suitable for users with a maximum of 110cm leg length
Max User Weight: 120kg
Row Length: 80cm
Dimensions (when in use): Length=178cm, Width=53cm, Height=48cm
Dimensions (when folded): Length=74cm, Width=53cm, Height=119cm
Product Weight: 26.1kg
Warranty: 2 years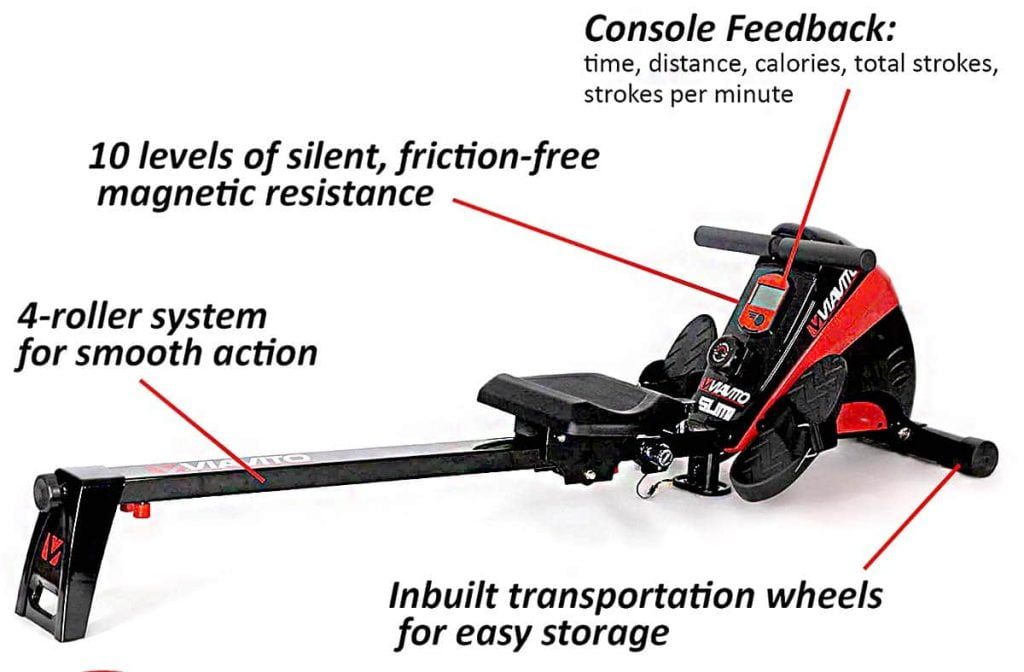 Viavito Sumi Rowing Machine: Main Features
Rowing machines are typically the favourite exercise machine in many fitness clubs for most people. They are ideal if you are looking forward to losing some weight or toning your legs and arms. The best rowing equipment will help you accomplish your fitness objectives faster.
Apart from the specifications, the first thing you will notice in the Viavito Sumi rowing machine is its colours and patterns. Featuring in red and black, this model is honestly classy and modern as far as designs typically go. Here are some of the major features of the Viavito Sumi Folding Rowing Machine and the factors you should consider when making your purchase.
Friction-Free Magnetic Resistance
Unlike most of the machines that utilize air resistance, the magnetic rowing machines come with fixed levels of resistance that you can change electronically with the LCD monitor or manually with a resistance lever. These machines are generally quiet and provide a pretty smooth and comfortable exercise, which is the main reason why they are quite expensive.
In total Viavito Sumi comes with ten levels of friction-free magnetic. The flywheel has a decent weight of 7kg and provides a good exercise for both intermediate users and beginners of indoor rowing equipment. The flywheel allows for a smooth rowing and flexible action, so your workouts are not only effective but enjoyable as well. This smoothness is enhanced even further by the good quality of the four roller system and the steel rail, helping you to glide up and down this rail with ease. To adjust the level of resistance you should simply turn the machine's rotary knob located slightly below the digital display.
Digital display and monitor functions
Even the cheap models come with a digital display of some kind, but it's worth noting that some can be pretty small and will display only several key indicators. Others will be quite large and easy to read, and will also display a lot of different readouts to help you analyze each aspect of your exercise. You will also note that some of the best machines will also come with backlit displays, which make them even easier to read.
A digital display is inbuilt at the bottom end of the rower and its easily within reach. When you compare it with similar models, it might not be one of the most modern-looking machines, but you can see all the readouts displayed more clearly because it's a good size. This Viavito Rowing Machine has a total of five monitor functionalities for monitoring your workout routines which include strokes per minute, calories, distance, count and time.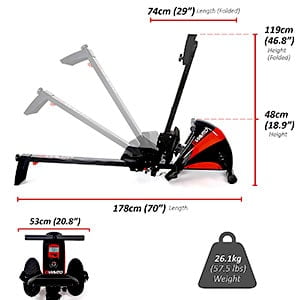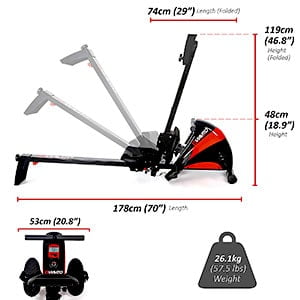 Seat and handles
Apart from the weight capacity and the seat height, the size of the seat is also an essential feature to consider when purchasing a rowing machine. Some people will prefer a small and more compact chair for ease of use and space, while others find a big seat to be optimal. As simple as it sounds, remember that when a seat is more narrow or several inches wider, it can significantly impact your workout.
Comfort is vital for an effective session on any workout machine, and the Viavito Sumi excels pretty well in this aspect. The seat is wide, and the contoured and ergonomic design helps you to row in a more comfortable and appropriate position. The handles and seat of the rower are both of the same standards that you find in many other models in this price range. The only difference about this rower's seat is that it comes with a tread for extra grip when to give you a more convenient feature. Moreover, the handles are usually covered with soft foam providing you with extra comfort.
Footplates
Generally, large and pivoting footplates will enable you to recoil and push off at natural angles. They are designed to ease any pressure from both ankles to prevent injury as well as provide you with safe and more comfortable workouts. The Rower has a decent set of inbuilt footplates that are large and can easily accommodate size 11. People with small feet should not be put off by these big footplates because the adjustable fasteners will give you a firm footing as well. For extra foot support, Viavito Sumi's pedals have straps that offer you a secure and adjustable fit.
Maximum user weight
If your weight is less than 250 lbs, you can easily use most indoor rowers without any problems. However, if you are pretty overweight or are very muscular or large, you might exceed the highest weight limit for most of the small- and medium-sized rowing machines. Therefore, it's always a great idea to check out the weight restrictions before you purchase one of these workout machines. Moreover, the maximum user weight is also a good indicator of the general quality of a rower. The Viavito Sumi Folding Rowing Machine comes with a max user weight of approximately 120 kg. That is not the heaviest maximum user weight, but for a budget rowing equipment, it's in the expected range.
Stable and durable
The Rowing Machine is made of a tubular steel frame making sure that it will last you for a long time, and it's intended and designed for long-term and continuous use, particularly since it provides you with a progressive resistance system to allow for a never-ending challenge.
Although it is lightweight and incredibly easy to manoeuver, it is also sturdy, strong and heavy duty and also feels quite stable during your workouts. Stroke after stroke, Viavito Sumi Rowing Machine will support and also encourage your movements as you target a broad range of muscles to get a complete body workout.
Compact Storage
When you finish exercising, you can easily fold your rower out of the way giving you space-efficient storage between workout sessions. To conveniently put it in a closet or into a corner, you can move Viavito Sumi around using the inbuilt transportation wheels.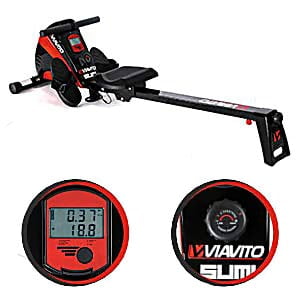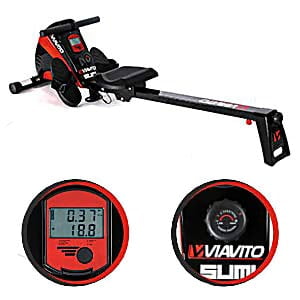 PROS
Ideal for tall users more than 6ft
Magnetic resistance which gives you a quiet and smooth action
The ten levels of magnetic resistance also ensure progression
Comfortable handles and seat
The machine is foldable in half saving you some space
Very sturdy
Good warranty
CONS
The LCD monitor is pretty basic compared to similar rowing machines in this price bracket
Not suitable for users above 6ft 4."
As we have mentioned earlier in the features that this rowing machine is Flywheel/Air-Magnetic resistance type. Here is another rower of the same that you might be interested which is Bodymax R100 rowing machine
Besides that our highest recommendation goes to these four (below) rowing machines. You should check them out.
Concept 2 Model D
Rowing machine Concept2 Model E
V Fit Tornado rowing machine
and Freedom air rower by JTX.

 Verdict
In general, this Rowing Machine provides a perfect fitness routine. It's ten resistance levels allows you to select between strength or cardio workout while giving some room to progression as well. Folding design allows you to save up some space at home and also makes it easier to move the equipment around. This Viavito rowing machine is a wonderful option for intermediate users and beginners who are willing to purchase a quiet and compact workout machine.
The price tag of this rowing machine is pretty affordable for those who are new and curious about home fitness, rowing, or workouts in general. Viavito Sumi Folding Rowing Machine makes training at home more enjoyable and efficient. That's because it is an incredibly versatile and effective rowing machine that's easy to use and also targets the major muscle groups in your body when you are rowing. For a budget workout machine, this is a good model, but the only downside is the plain-looking display.