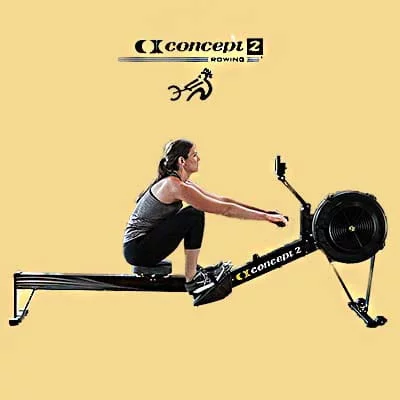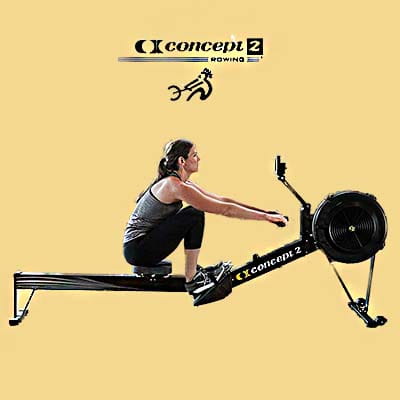 Average Rating 4.9 out of 5

Concept2 Model D Indoor Rower With PM5 Monitor
Concept 2 Model D Rower has been in the market for several years now and still today it remains as one of the best Rowers that money can buy. Most consider it as the mother of all Rowers.
Ever thought of working out at home? What challenges would you face in this venture? Limited space, comfort, and durability are the main challenges that I met as I embarked on working out at home. But the good news is there's an answer to these challenges. It's the Concept2 Model D Indoor rowing machine.
The machine is a game-changer for those who opt to train at home. It combines strength training, aerobics and an entire-body workout that leaves you energized and joyful.
For around £850, you can get your set of Concept2 Model D Indoor Rower. Though most people argue that the price is slightly high compared to other rowing machines, I can assure you that compared to what you get from this awesome machine, the price is quite fair.
Just imagine what you're getting, unmatched quality, smoothness, dependability, durability and least but not last the workout, it's a decent deal.
If you're looking for a durable, high-end rowing machine, then allow me to introduce you to one of the best rowing machines I have used is Model D by Concept2. The company that builds quality fitness equipment for many years.
Stay with me as we get into more in-depth information about this Concept 2 Model D

 

Key features
It has a performance monitor ideal for thorough and accurate monitoring.
A flywheel design that offers an effortless glide and minimizes noise
Adjustable footrests
Nickel-plated chain
Comfortable handle
Castor wheels for easy movement
Separates into two for easy storage
Wireless capabilities
Capability to monitor heart rate via Bluetooth connectivity
Has 227 kg weight limit
 

Dimensions & Weight
Length: 244cm (96 inches)
Weight: 26 Kg (57 pounds)
Width: 64cm (24 inches)
Seat height: 36cm (14 inches)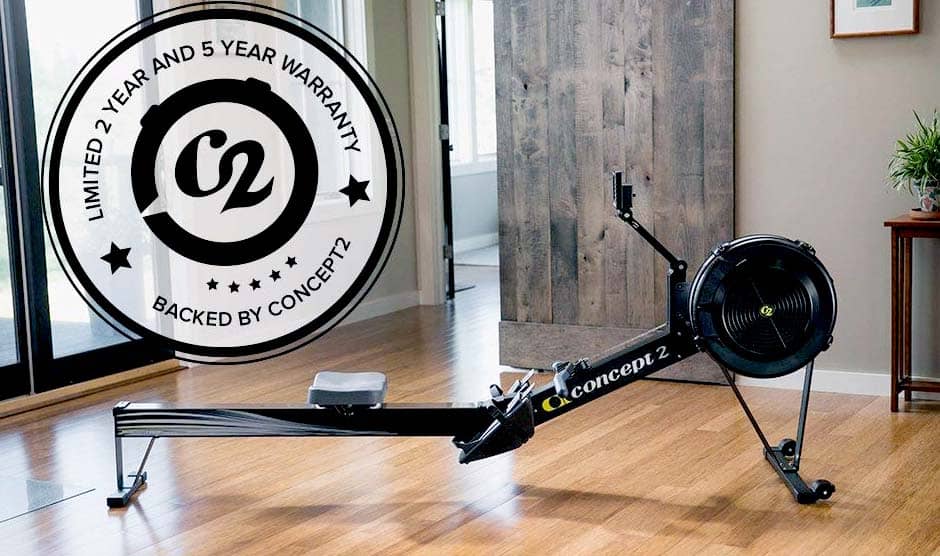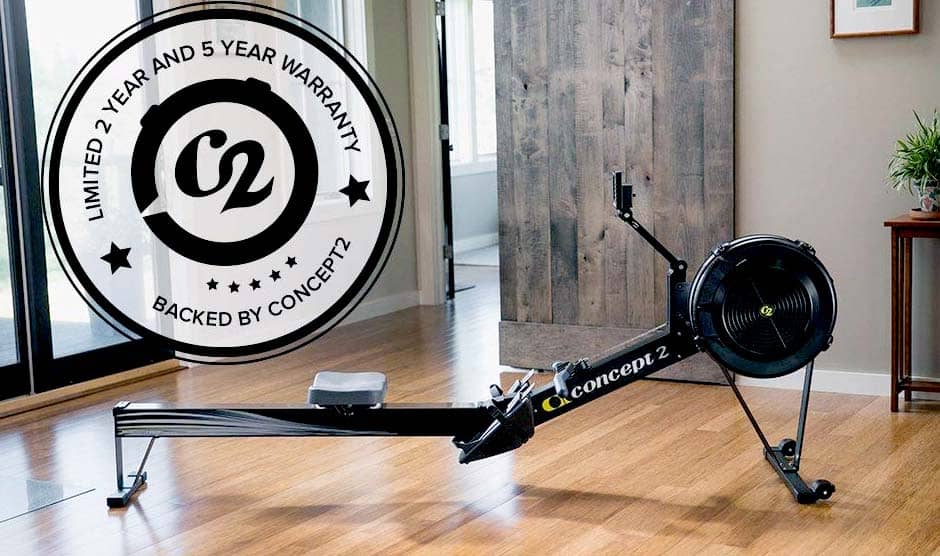 PROS
Air resistance for noiseless workouts
Easy to assemble. In 10 -20 minutes your machine is ready to use
Optical slides for on-water simulation
A low profile seat.

Concept 2 Model D Rower

has a low profile seat on 35.5cm off the ground.
Ergonomic handle. The machine has a handle with a 10-degree bend that offers the ideal rowing position.
Wireless heart rate data display
Adjustable footrests
Easy to store. You can separate the machine into storage.
Weight capacity of 227 kgs
Caster wheels to easily move the machine.
Excellent warranty for the frame, computer, and replaceable parts
 

CONS
It's larger than most rowing machines measuring 244cm by 61cm.
The nickel-plated chain might require occasional oiling since it's partly exposed.
The plastic monitor arm isn't strong; ideal rowing machines have metal arms.
There is an upgrade version of Mode-D with few extra features in Concept 2 Model-E . The look and basic functionalities are nearly the same with few exceptions:
– Machine weight & Seat height Model-E is slightly higher.
– Chain: D is Steel; E is Nickel-plated steel
– Chain Housing: Partially enclosed; E is Fully enclosed
– Monitor arm: D is Flexible and E is Fixed. Both D & E viewing angle can be adjusted.
– Machine Legs: D Front legs: Aluminum, Rear legs: Steel; E Welded steel
– Exterior Finish: Model-D is Powder coat (Non-glossy Matte finish) on Model-E Double powder coat plus clear topcoat (glossy like).
– Model-E price is roughly 20% higher.
Another option within the similar price range would be A1 WaterRower which uses water resistance unlike the Concept2 Model-D with Flywheel air resistance.
 

Warranty
Since this Rower isn't one of the cheap workout machines you'll find in your home, it comes with a 5-year warranty for the frame and 2-year warranty for all replaceable parts.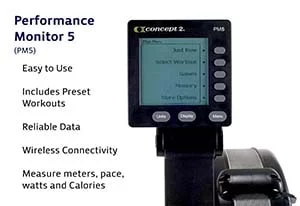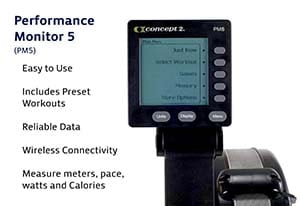 Assembly
I bet you must be wondering if this rowing machine is easy to assemble or you'll need help when assembling. Concept2 Model D Indoor Rowing Machine must be one of the easiest rowing machines to assemble at home. In less than 20 minutes your machine is ready to use. The only tool you require for the exercise is a screwdriver.
If you have any difficulties putting the parts together, you can employ the services of a professional to assemble the machine in minutes. You need to fix 8 screws when assembling this machine. The machine is slightly larger than standard rowing machines, and you'll need a space of roughly 2.74m (9 feet) by 1.22m (4 feet) to work out without hitting objects in the workout area.
 

Resistance
The resistance level for any rowing machine is determined by the speed and the intensity of your rowing. In the case of this Model D Rower, it uses air to exert resistance; this makes the workout smooth no matter the intensity or speed of rowing.
It has been designed as a solution for the workout needs of all categories of people. Beginners, as well as experts in rowing, can comfortably use this machine.
With Concept2 Rowing Machine the resistance is determined by your speed. For those who have used rowing machines with friction or electromagnetic resistance, you may take time to adjust to this form of resistance. Therefore consider this as you plan to purchase this rowing machine.
 

Noise
Concept2 rowing machine doesn't produce clicking or squeaking noise while in use. When you compared this machine to other rowing machines that use a different form of resistance, you may find it to be slightly noisier since it uses air for resistance. But on average it's not a noisy machine.
When rowing at high intensities, you'll need to increase the volume of your headphones or TV. The noise emitted by this rower will hardly bother other people in your vicinity.
 

Comfort
Generally, this rowing machine is a comfortable rower for all people.
Just like most rowing machines, Concpet2's seat is low to the ground making it challenging for persons with mobility issues.
Few customers have complained that the seat is hard for them. Should you experience this form of discomfort, purchase a gelled seat to make the seat softer.
The concept2 rower is suitable for both short and tall individuals. The rail is long enough to accommodate individuals with varying heights. If you want a rail larger than the standard one, please make an order. But I guess this can only be possible if you're more than 6.8 ft.
Reliability
We can consider the Concept2 Model D Indoor Rower to be an exceptionally reliable machine due to its air resistance flywheel and simple design.
It's easy to adjust the resistance thus making your workouts enjoyable.
This Rowing machine doesn't require any maintenance and can be used for years without a problem. If you need it to serve you for long, make sure to oil the chain after every 50 hours of use.
 

Quality & stability
The concept2 rowing machines are made to last for ages. The simplicity of its design aids in stability. The device is made up of two separate steel pieces that you can connect in the middle making the machine very stable.
Another plus for this workout machine is that it has a 227 kg user capacity unlike most rowers on the market that have half this capacity.
 

Price
Concept 2 Model D has a price tag of around £850. Most consumers might debate that it's highly-priced. But remember for such a quality that will last you a lifetime, you're getting the best deal. Once you purchase the machine, you won't need to revisit the issue of buying a rowing machine.
If you frequently go to gyms you'll realize that they use  Concept2 rowing machines too. So, with only £850 you're able to bring home a world-class gym machine into your home.
Frequently asked questions about Concept2 Model D
Is this a low machine impact?
Yes, this machine has been designed to have minimal impact on your back, knees, and joints.
Can I assemble the machine without professional help?
Yes, You only need a screwdriver to fix eight screws that bind the parts together. In less than 20 minutes you should be through assembling the Concept 2 machine. You only need to follow the instructions on the user manual that comes with the machine.
Is the Concept2 Model D Indoor machine expensive?
Yes and no. If your' looking for an ordinary rowing machine, it'll be costly, but if you're in search of a quality, long-lasting rower, then Concept 2 should be your ideal pick.
Does this machine have a warranty?
Definitely. Concept2 rowing machine has a 5-year warranty for the frames and a 2-year warranty for the moving parts and the computer.

 

Final verdict
As we have discussed above, purchasing Concept 2 Model D Rower is like setting up a gym in your home. It's an all-inclusive workout machine that will leave you stronger and healthier. With this machine, you don't need a budget for the gym. You can do all your exercises indoors.
Besides this machine offers low impact exercises ideal for both the young and the old. For just £850, you can set up a gym in your home. Remember one of the best strengths of this machine is its durability. You one needs to make one purchase and the fitness needs of your family are sorted.
Model D by Concept2 ranks as the best indoor workout machine so far in terms of quality, performance, and durability. The fact that you'll find it in all leading gyms across the world is proof enough of its class.
If you've decided to purchase a rowing machine for your workout, then I can only advise you to go for the Concept2 Model D rowing machine. It'll never disappoint.