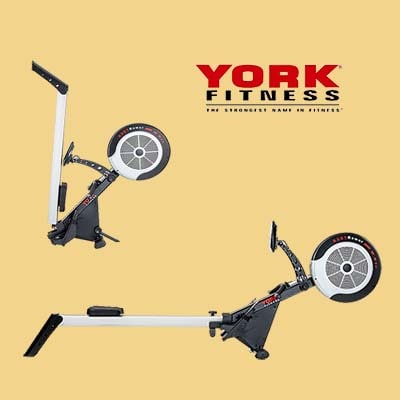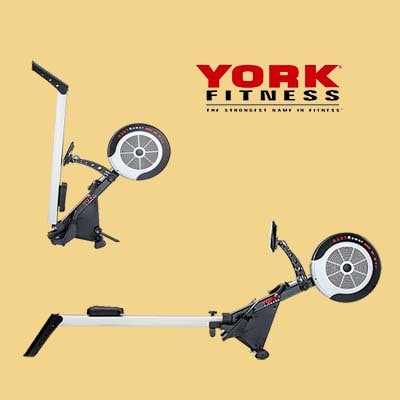 Average Rating 3.3 out of 5

York Fitness R301 Platinum Rowing Machine: An Excellent Value for Your Money!
The York R301 Rowing Machine offers excellent value for your money. It comes with cutting edge features. This York fitness rowing machine is designed to deliver comfort. It offers you a smooth and natural rowing motion. The Tech embedded in the LCD display helps you track your progress.
I have been using this rower for a few months, and I am pleased so far. Following, I am going to share my experience in detail and help you make a well-informed decision.
Introduction to York Fitness R301 Rower
When I hit the market, I was looking for something that can help me with a full-body cardiovascular workout. During my search, I am across the York R301 magnetic rowing machine, and I was impressed with the price to performance ratio.
I didn't expect something at this price range to come with 16 levels of air magnetic resistance. Every level increases the intensity of your exercise session. If you combine air and magnetic resistance, it will lead to natural and smooth rowing. With that said, following,
I am going to give you an overview of this model's features:
• Smooth Air Resistance
• Backlit LCD Display with Heart Rate Monitoring
• 16 Different Resistance Sets with Program
• Molded Seats and Durable Aluminum Track
• Compact and Durable Design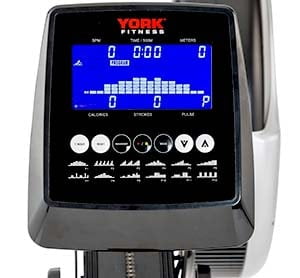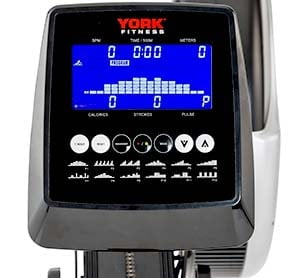 • Easy to Assemble and Various User Settings
PROS
• Excellent Build Quality
• Accurate Heart Rate Monitor
• LCD Tracking Monitor with Several Features
• Compact Design
• 16 Different Resistance Levels
• Pre-set Workout Program
CONS
• Lack Of Transport Wheels
• Air Resistance during Row Exercise
In case you're looking for an alternative to York R301 within the similar price range, we recommend you to read our review on Reebok GR rowing machine. Just for your note, York R301 is air-magnetic whereas Reebok GR gives you magnetic resistance. Magnetic rowers are normally the quietest. When we built this site, we did extensive research based on our own experience and expert's view. We can confidently say that the following 4 rowers are the best in our view in terms of reliability, durability, and price:
Concept2 model D indoor rower
Concept 2 rower model E
V Fit tornado air rower
JTX Freedom air rowing machine
You might have different preferences and requirements, therefore, we suggest you go through the reviews of your choice and pick the one most suitable for your needs.
Detailed Specs
The York Fitness R301 Rower is full of premium features; I found this machine well built for a cardiovascular body workout. I think rowing is an efficient and time-saving way to remain fit. This rowing machine is designed for convenience. This device can easily be folded down and stowed away for storage. Following, I will explain its other features in detail!
LCD Display
The York Fitness R301 Rower comes with a Backlit LCD Screen Display that shows you accurate real-time readings of your status, performance and body vitals. This display is responsible for showing you vital information during a workout like strokes per minute, how many calories you burned, the rowing distance, etc.
Smooth Flywheel
This rowing machine comes with a smooth flywheel. The wheel weighs around 6kg, and it produces realistic rowing strokes. I found it quite useful when rowing; it imitates a natural motion.
Easy Storage

At first, I was a bit skeptical about this rowing machine. I thought it would take too much space. But, I had a surprise coming. When not in use, you can easily stow it away. The added convenience makes this machine ideal for people wanting a household solution for exercise. But they don't want anything that will consume too much space.
Adjustable Footplates and Display
I realize the reason why most people don't like to pay for a fitness club membership is they can't adjust the exercising machines according to their convenience. This is not the case with this York Fitness Rowing machine. The footplates feature straps. It secures your feet and attaches them to rower while you exercise.
Molded Seat is comfortable and produces smooth glide thanks to excellent built bearing action down to the sturdy aluminum track.
The footplates are adjustable; this makes them pivot for natural motion and comfort. This exercise machine is designed to be as adjustable as possible. You need to find the height of displacing that suits you by changing the angle.

Verdict
I believe York R301 rowing machine is an excellent solution if you are tight on budget. For a rowing machine that costs around three hundred pounds, I believe this rowing machine boasts some excellent features.
While it's not strictly a premium machine, I found it performs better than most machines in this price range. Still, for some reason, I don't believe this particular model is ideal for serious and heavy users. A piece of advice, you must know rowers do make some noise. Well, this model is not very loud, but it's not strictly silent either. Other than that, I have no completes; the heart monitor does give accurate ratings. It's ideal for even advanced users.
After reading this review if you're still undecided, please check out our top pick of Rowers for this year.
==================================================================
York Fitness R301
The York 301 is designed to offer full body workout. It has 16 different air magnetic resistance levels. You can increase the intensity as you work out. The combination of air and magnetic resistance offers a smooth rowing motion. R301 also features an advanced console to keep track of your progress.
It features a 7-inch blue backlit LCD that shows your key statistics including time, distance, calories, strokes, strokes per minute and heart rate. It comes fitted with a wireless heart rate receiver for accurate heart rate monitoring.
Features
Smooth and Fluid Air Magnetic Resistant with 16 Different Levels
7-inch Backlit console with accurate tracking
Built-in wireless heart rate receiver for real-time heart rate monitoring
16 in-built workout programmes
Durable Aluminium frame
How is it Different?
Fitness R301 is a mid-level Rowing machine with durable construction and advanced controls. It doesn't fold, so you must reserve some space for [Read full Review here…..]